Facilities
The National Indian Programs Training Center facility consists of 48,000 square feet and encompasses the entire second floor of the Manuel Lujan, Jr. Building in Albuquerque NM. The Center's training areas consist of computer labs, classrooms, conference rooms, breakout rooms, and a production studio. Panoramic images of the NIPTC facilites are available.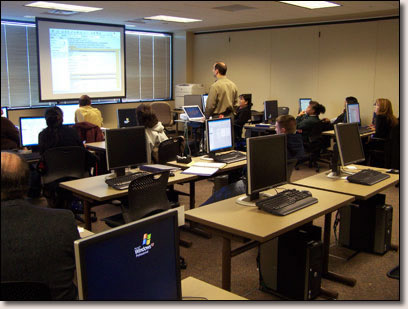 Computer Labs
Five computer labs provide training for a total of 92 students. Each computer lab is equipped with a dedicated instructor PC, connection to the BIA's TrustNet, BIE's EdNet, or soon-to-be-available commercial internet for non-Bureau students and instructors. Each lab has a color laser jet printer, LCD projector, built-in retracting screen, flip chart and corkboard. Each instructor PC can control the student PC's and send information to the projector. Labs 264, 265 and 266 can be combined to have one large lab.
Classrooms, Conference Rooms and Breakout Rooms
The 11 classrooms are equipped with an instructor computer which can project to the overhead LCD and can have video or teleconferencing capabilities upon request. Each classroom can be configured into a horseshoe, theatre, conference room or pod formation.
Two dedicated conference rooms are also available with formal conference tables, overhead LCD and video or teleconferencing capabilities upon request.
Classrooms, conference rooms, and computer labs are available for daily fees. Reservations are required for all events.
Production Studio
The Media Production Center (MPC) consists of the studio, as well as development, editing and control booths.