Levi Horn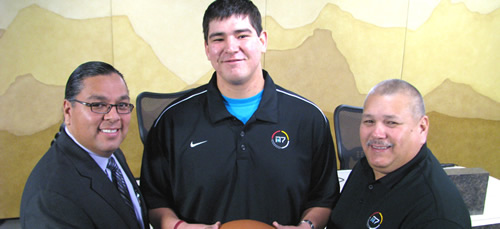 A Spokane, Washington native, Levi grew up surrounded by the lushness and immensity of the Pacific Northwest. Always athletic, he became a prolific tight end as well as a defensive standout in high school, where he earned all state honors. Armed with tremendous potential and overcoming numerous hurdles, Levi had an immediate impact upon joining the Montana Grizzlies. As a starting left tackle with an enormous presence and a devotion to team, he was named an All-American in 2009.
Playing with emotion and fire, Levi is passionate off the gridiron, as well. Inspired by his mother, a Native American of Northern Cheyenne descent, Levi sees the effect volunteering has on a community. In February 2011 he joined the Bureau of Indian Education's effort to bring the Presidential Active Lifestyle Award (PALA) Challenge to BIE schools, with the goal of inspiring students to become—and stay–physically active. NIPTC hosted Levi for his live broadcast to the BIE schools over the Center's ELKNet satellite broadcast system.
He also supports Griz Kids, offering underprivileged youth access to the benefit of organized sports.
These days, he wears a Chicago Bears jersey. Levi signed as a free agent in 2010.
Recognizing his numerous accomplishments on the field, Levi's education is what he's most proud of. Grateful for the help and support he's gotten from his coaches, community, teachers and mother alike–Horn aspires to give back all he's received.